Godex Alignment Instructions
KBA-01335-F8C6K0
Purpose & Scope
Godex Alignment Instructions
Procedure
To align the Godex DT 4:
Open the Devices and Printers folder.
Right click the Godex printer and select Printer Properties
Go to the Tools tab
Click Actions then select Reset to Factory Defaults
Then click Run calibration. 
The printer will feed several labels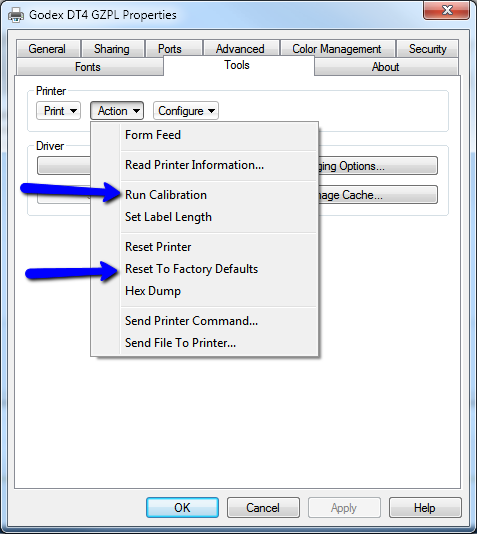 If this does not work, try the following:
 
Turn printer off
Press and hold feed button
Turn printer on while holding feed button
Printer light will flash red and beep
Release Feed button
Note:  The scanner head will read the size of the labels and align based on the label size in the printer.  The printer will feed configuration labels while it aligns

If the printer does not have a cutter, ensure the cutter is turned off inside of Check-in.  
 
Inside of the Check-in application go to the Menu
If the cutter is on the button will read "Turn Cutter Off". Click it and it will change to "Turn Cutter On".
Additional Comments